This is the child's adirondack set I bought at a garage sale a few weeks ago for fifteen dollars. It was very well made but in terrible need of a little tlc.  I was more than happy to spend a little time to make this pair of chairs and table shine. 
  A lot of sanding, tightening some screws and several coats of red paint and it's now a gift that I surprised  my Daughter-in-law at her baby shower  with.  This little shower guest enjoyed using it while she ate her cupcake.
I set it with a glass tea set that I have saved since I was very little.  She was thrilled to get it although it will have to be saved for a few years until our new grandaughter gets big enough to use it. 
I am sure that will happen much sooner than we think. 
~Childhood is the most beautiful of all life's seasons.  ~Author Unknown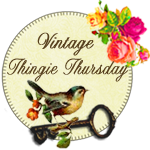 Visit Colorado Lady for vintage thingie thursday